Frequently Asked Questions
Below is a list of our frequently asked questions.
Do you require a down payment?
Yes. We require a down payment of 1/2 of the rental fee plus the security deposit and cleaning fee. This reserves the date you have chosen.
Do I need to schedule a tour, or can I just drop in and browse?
We kindly request that you schedule a tour. We would love to show our beautiful space and talk event details with you.
Do you require liability insurance for my event?
If it's a small event such as a baby shower or funeral meal then this is NOT required. However, if its a large event, especially with alcohol being served, then OUR INSURANCE Co. requires the renter get their own policy. You can use whatever insurance company you like. Check with your Homeowners Insurance first. You may be able to get a one day "Event Liability Policy" listing Eighteen-Eighteen Venue, LLC as an additional insured.
If your home owners insurance doesn't offer coverage, we recommend Anco Insurance in Bryan, Texas. You can contact Aaron Flores directly at 979-774-6271 or flores@anco.com or you can Click here for Special Event Insurance From TheEventHelper.com
All insurance certificates must state:
Eighteen-Eighteen Venue is listed as an Additional Insured and provided Waiver of Subrogation in respects to the General Liability Policy as required by written contract.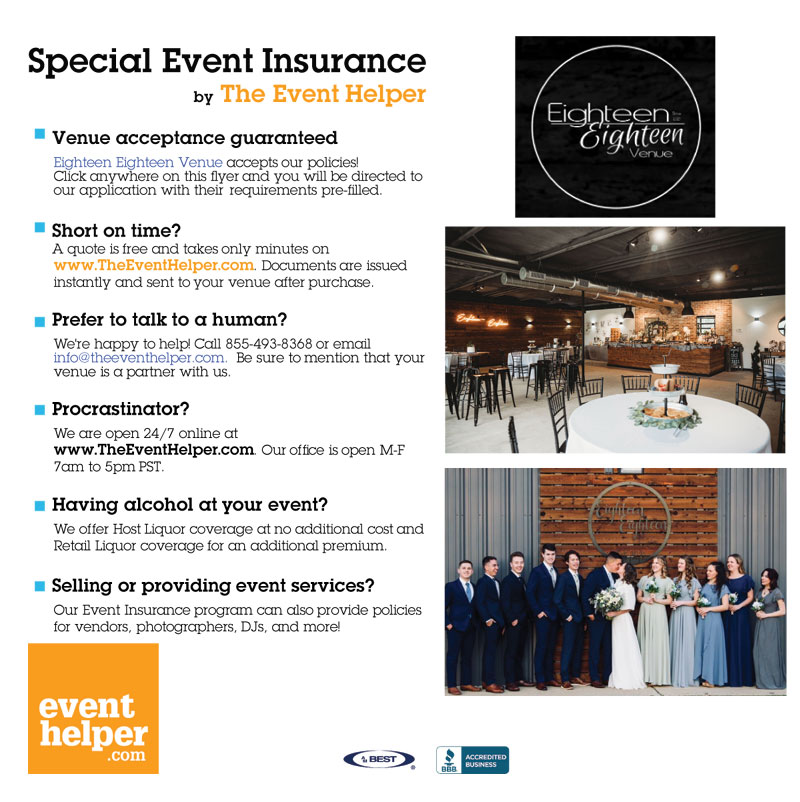 What is the Eighteen-Eighteen vendor policy?
Eighteen-Eighteen is happy to have an open vendor policy. We do have a list of vendors that we recommend, but you are welcome to use vendors of your choice. Liability Insurance will be required. If it's a Chain Resturant catering nothing is required.
Am I allowed to serve alcohol?
We are planning to use a rental company. Can they drop off or pick up items outside our contracted time?
All deliveries and pickups need to be done within the allotted time.
Can we hang decorations?
Yes, but we ask that you do not puncture the wood or cause any damage at all to the surfaces at Eighteen-Eighteen. We recommend the use of craft wire, 3M hooks, or velcro to prevent any damage.
Do you provide table linens?
We do have linens available in a variety of price points, but they are not included in the price.
See prices listed under the Rental Info Tab (Rental Items)
What time do I have access to the venue?
Your hours of accessibility are listed in your contract. Please plan accordingly and be efficient with the use of your time.
What cleaning is required at the conclusion of our event?
We ask that you gather all your belongings from the Venue. All trash needs to be collected and disposed of in the trash cans. There is a trash receptacle on side of building.
Eighteen-Eighteen Venue will take care of sweeping and mopping the venue. Guests, vendors, and caterers must remove all items brought to Eighteen-Eighteen. (If ANY items brought into Eighteen-Eighteen are not removed such as, decor, food, belongings, etc. an up-charge is enforced)